BEST summer courses: You can have the BEST summer of your life!
#Website: http://best.eu.org/courses
#Application open until 25 March 2012 at 23:00 CEST
#Events between 1 June 2012 – 7 September 2012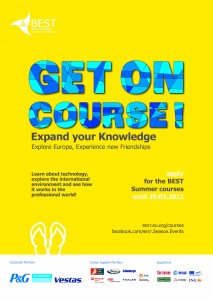 Any interesting plans for this summer? If not, we have a good news for you: BEST Summer Courses 2012 are on! 🙂
From Lisbon to Ekaterinburg, from Tampere to Athens; from robotics to renewable energy, from architecture to IT security: on http://best.eu.org/courses you'll find 47 courses for you to choose from.
The courses are organised by students like you, with support from their university and sponsor companies, and last for around 8 to 16 days. You just have to pay for your travel to and from there, and everything else is provided for you: accommodation, meals, sightseeing in the city and great parties. Plus, the academic part is a nice mix of lectures, workshops and company visits. The fee for a course is ranging from 0 – 45 €, depending on the location.
What are you waiting for? Prepare an awesome motivation letter using these tips&trips and apply before Sunday, 25 March 2012. Then wait for the selection results until 15 April. If you are one of the lucky ones, get ready to have the time of your life this summer! 🙂
In case you have any questions about the courses, don't hesitate to ask us. We are always happy to help 🙂