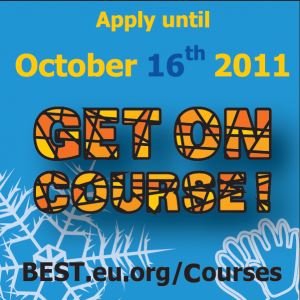 If you want to experience something new at the beginning of next semester, BEST has an awesome proposal! If you want to …
* break the monotony by studying for 7-10 days in another European technical university.
* get to know a new country from a local's perspective.
* learn something new from a domain you are interested in.
* party and have fun with 25-30 other students from all over Europe.
… then you should apply to 1, 2 or 3 BEST winter courses 🙂 These are organized by students for students, with the support of universities and companies, so they are not like any other course you might think of 😉
All you have to do is write a motivation letter describing yourself and your interests and wait for the answer from the organisers. Then, in case you are accepted, you just have to pay a small fee of up to 44 euros and buy your flight ticket, and leave the rest to us 🙂
Check out our more details about BEST courses at www.best.eu.org/courses. If you have any questions, don't hesitate to contact us at copenhagen@BEST.eu.org. The deadline to send your motivation letter(s) is 16th October 2011. Don't be shy… just apply 🙂
See the list of courses below:
| # | Where? | Event name | When? |
| --- | --- | --- | --- |
| 1 | Ekaterinburg | Step forward to the rich man's world. | 1-10 Feb 2012 |
| 2 | Paris | The E.N.D : the Energy Never Dies | 11-19 Feb 2012 |
| 3 | Graz | Charge up & feel the energy – a course on energy transmission and athmosperic discharges | 4-12 Feb 2012 |
| 4 | Grenoble | Smart grids : Energize the future | 9-19 Feb 2012 |
| 5 | Kosice | Drive a wheel in your head | 12-19 Feb 2012 |
| 6 | Lyon | You drive me crazy! Drive me to Lyon! | 16-26 Feb 2012 |
| 7 | Supélec | European Week 2012 – Plug n' Roll : transport and electricity | 2-12 Mar 2012 |