Up for an exciting summer?
We've got just the events for you! Choose from 60 exciting summer courses held all over Europe. This is your guarantee for a fun summer.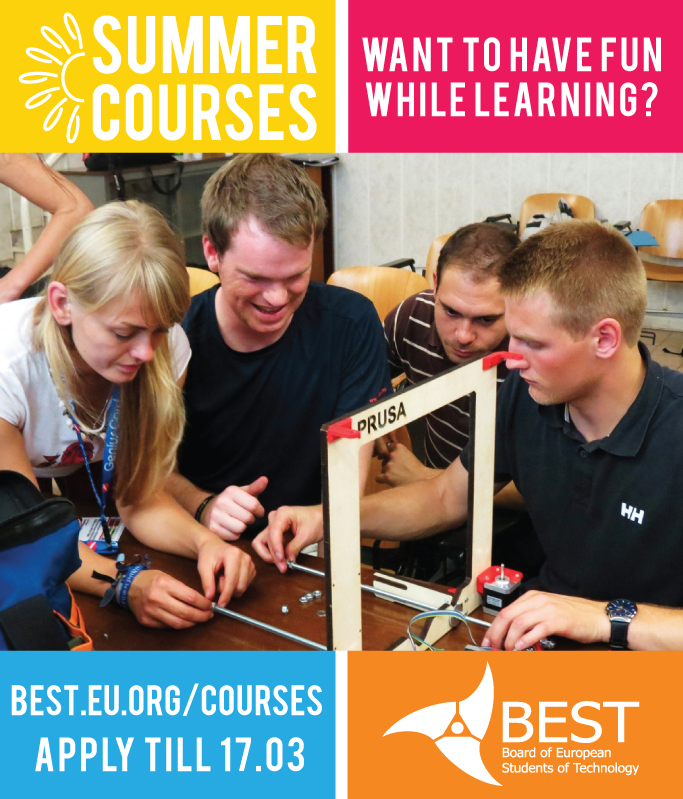 You don't know what a BEST Summer Course is? There is too much awesomeness in a BEST Summer Course to be put into words. But just to get a general idea, at a summer course you go to a great city, meet new awesome people, study by day, party by night, make new friends and have the experience a lifetime. It is a great opportunity to meet students from all over Europe while learning interesting things and having fun. All this is covered by a very low participants' fee. Apply HERE.
The deadline for applying is almost here, so hurry over to the list of summer courses and pick your favorite courses. Then you only have to write a motivation letter and wait for hopefully being accepted. For tips and tricks about how to write a motivation letter, check out this article. This season, you can choose from the following courses:
Aalborg
LEGO Robotics to Conquer the World
Almada
Back from a Dry Future : Create me a River
Ankara
Solar Energy-Let the Sunshine in!
Brasov
Biomass for Bioenergy
Bratislava
Brace yourself, the robots are coming!
Brno
Design your own materials
Brussels
The future of human robot interaction
Bucharest
Imagin3D.Liv3D.Design3D
Budapest
Lecshow – Learn it, Cook it, Show it!
Chania
Code name:M.APPL.E (Materials & Applications
for Environment)
Chisinau
Why play good games? Create one!
Cluj-Napoca
Tomorrow's World.Let's make it last!
Coimbra
Air'novation: innovations in air transportation!
Copenhagen
The Next Must, Think Robust!
Ekaterinburg
B12 – discovering yourself
Faro Algarve
007- The SUN is more than Enough!
Ghent
Highway to Ghent! Reducing the Carbon
Footprint of Cars
Gliwice
Wazz APP? Show us that you can make
IT mobile
Gothenburg
Technology in Sport
Helsinki
The circle of idea -> product
Iasi
We give you M&M skills… find the BEST way
to use them!
Istanbul
#Sustainability, Trending Topic of the Industry!
Istanbul Yildiz
He says East, she says West. We call it
Istanbul!
Kraków
'People, make a circle!' – become a graphic
designer
Las Palmas
Algorithmtation – From algorithms to
implementation & beyond!
Leuven
Energy – your everyday Superpower!
Liege
From water to electricity, what a dam(n) story !
Lisbon
Want it! Dream it! Create it! You can do it!
Ljubljana
The Game Of Woods
Lodz
Predominate the Energy You should! Join the
Jedi Academy!
Louvain-la-Neuve
Tell me how you move, I'll tell you what to
build!
Lviv
Homo sapiens -> Homo Analyticus. Next
step of evolution.
Madrid
Next station, sustainable education
Madrid Carlos III
Spainergizer: Power up your mind!
Messina
What is communication? Baby don't wire me,
don't wire me, no more!
Naples
A Clockwork House
Nis
May the Skills Be With You!
Patras
Makers of the future, here are your keys!
Podgorica
Get Up Start Up
Porto
From Grape to Great
Prague
Let's Walk Together Over the Vltava River
Riga
H2O. Think outside the sink!
Rome Tor Vergata
SMART ENERGY – Don't waste it…use it BEST!!
Skopje
Unemployed today – entrepreneur tomorrow.
Challenging enough?
Stockholm
Parallel Magic
Tallinn
The name is Bond, Ionic Bond: Chemistry at
its awesomeness
Tampere
BEST Collaborative Coding Experience
Timisoara
When Life gives you RObots, you give them
Life!
Timisoara
Bringing Education and Entrepreneurship
under student scope
Uppsala
Here's our planet, so save it maybe?
Veszprém
How It's Made?
Vienna
Game ON: From Theory to Practice!
Vinnytsia
Be active, hire effective!
Wroclaw
Let me show you how less can be more –
Modern Architecture
Zagreb
Technology, water you thinking about?
Zaporizhzhya
Eat your M&M's! Delicious
Marketing & Management