BEST at CDIO
In the end of June 2011, the 7th International CDIO Conference was hosted by the Technical University of Denmark, and BEST was involved in the conference by preparing an engineering competition for the professors and university representatives that had come to Copenhagen from all over the world to take part in the conference.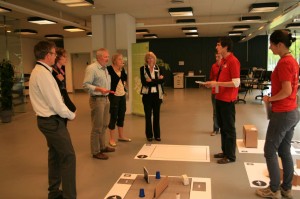 The main organizer Wojciech Kozuch explains the rules to the judges
Through the last couple of year, BEST Copenhagen have made used of LEGO Mindstorms in various occasions including a summer course, a local engineering competion and the Nordic Engineering competition. For that reason the Copenhagen group have extensive experience with LEGO Mindstorms, and in general with how to arrange and engineering competitions.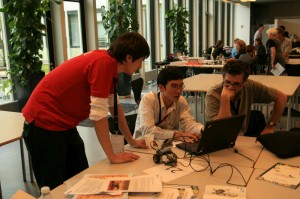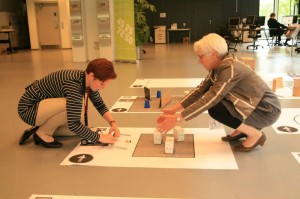 The teams programming and testing the robots before the final test
The goal of competition was to have the robot complete a series of tests, ranging from classic follow the line tasks, to having it write BEST on a piece of paper and clearing an area of items. In the end six of the total of 36 teams would compete in the final race to the finish line.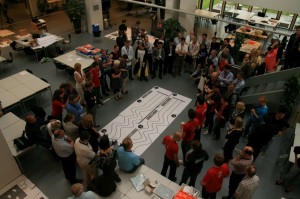 The setup for the final race
In the end only one team could win, but most of the finalists did quite well in the final race.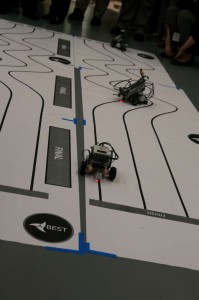 The finish of the final race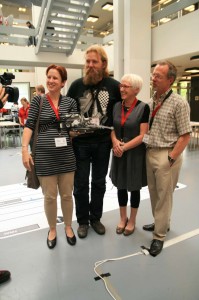 The winning team
At the end the day the dean of Bachelor studies at DTU Martin Vigild congratulated the winners, and thanked the organizing team for arranging a challenging and fun day for the participants where the roles had been switched and professors where challenged by the students.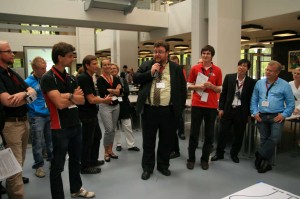 Martin Vigild delivering his closing speech
The day was ended with an evaluation speech by Digby Symons from Cambridge University and the organizing team could take a well deserved rest, after a day of making sure that everything would run smoothly.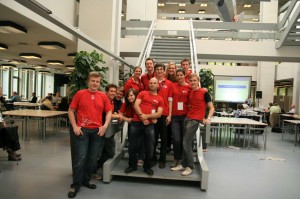 The organizing team from BEST Copenhagen at the end of the day
To get a better feel of how the competition was, watch this video on Youtube: BEST Engineering Competition at 7th International CDIO Conference, Denmark, 2011 😉